How to Create Language Translator service in IBM Cloud
Hello Friends in this article i am gone to share How to Create Language Translator service in IBM Cloud with you..
How to Create Language Translator service in IBM Cloud
IBM Watson Language Translator
IBM Watson Language Translator translates text from one language to another.
The service offers multiple IBM-provided translation models that you can customize based on your unique terminology and language. Use Language Translator to take news from across the globe and present it in your language, communicate with your customers in their own language, and more.
Pre-requisites
You will need an IBM Cloud account to do this. If you have not created IBM Cloud account, follow this instructions to create an IBM Cloud account.
1) Go to: https://cloud.ibm.com/registration  to create an account on IBM Cloud.
2) Enter your company Email address and a strong Password , as per criteria and then click the Next  button.
3) An email is sent to the address that you signed up with to confirm your email address. Check your email and copy and paste Verification code. Then click

Next
4) Once your email is successfully verified, enter your First name, Last name, and Country and click

Next
5) Go through the Account Notice and opt for Email updates if you desire, accept the terms and conditions and click on 

Continue
6) Before creating your account, review the account privacy notice and acknowledge that you have read and understood by checking the checkbox and click on

Continue
7) You will be taken to the login screen. The username (which is your email address) is already populated.
8) Enter the password that you had chosen for the login. Unless you are using a private computer, don't choose to save the password.
9) Once you successfully login, you should see the dashboard.
Congratulations: you successfully create IBM Cloud account.
Create an instance of Language Translator service
Language Translator, which is available as a service on IBM Cloud, and a component of the IBM Cloud Pak for Data, allows you totranslates text from one language to another.
In this exercise, you will add an instance of the Language Translator service to your IBM Cloud account.
Task 1: Add Language Translator as a resource
1) After you log into the IBM cloud account, in the IBM Cloud Catalog go to the Language Translator listing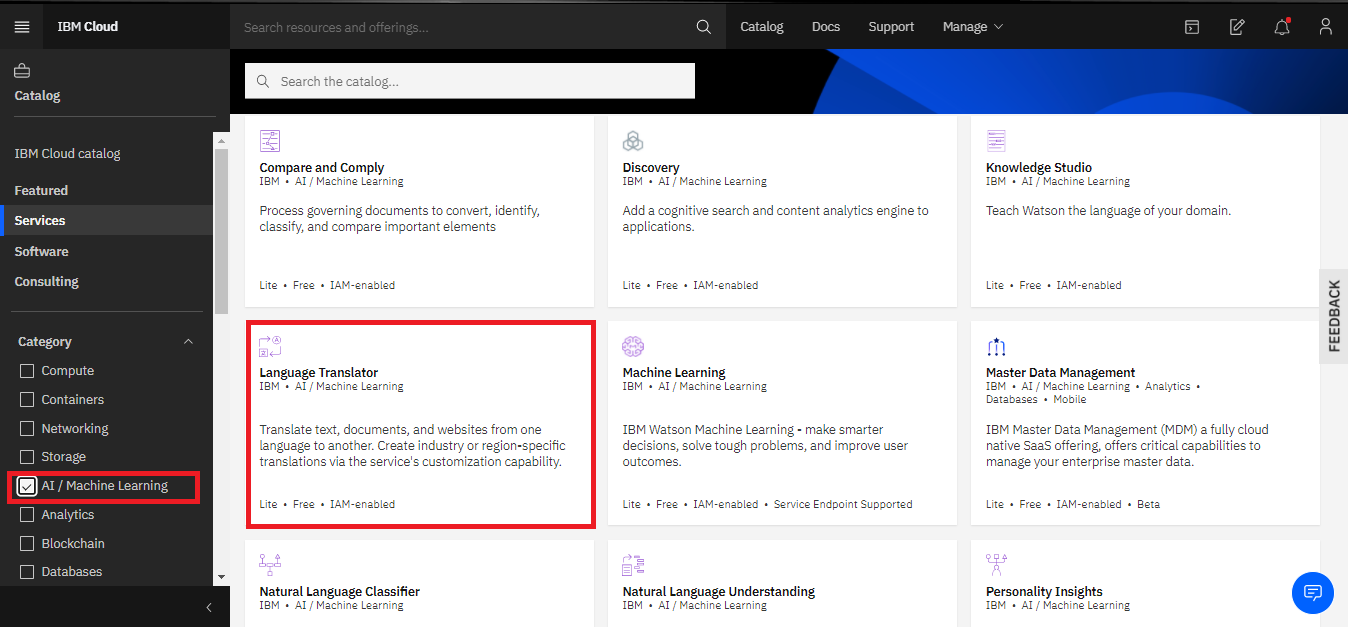 2) On the Language Translator page, select DALLAS as the Region, verify that the Lite  plan is selected, and then click Create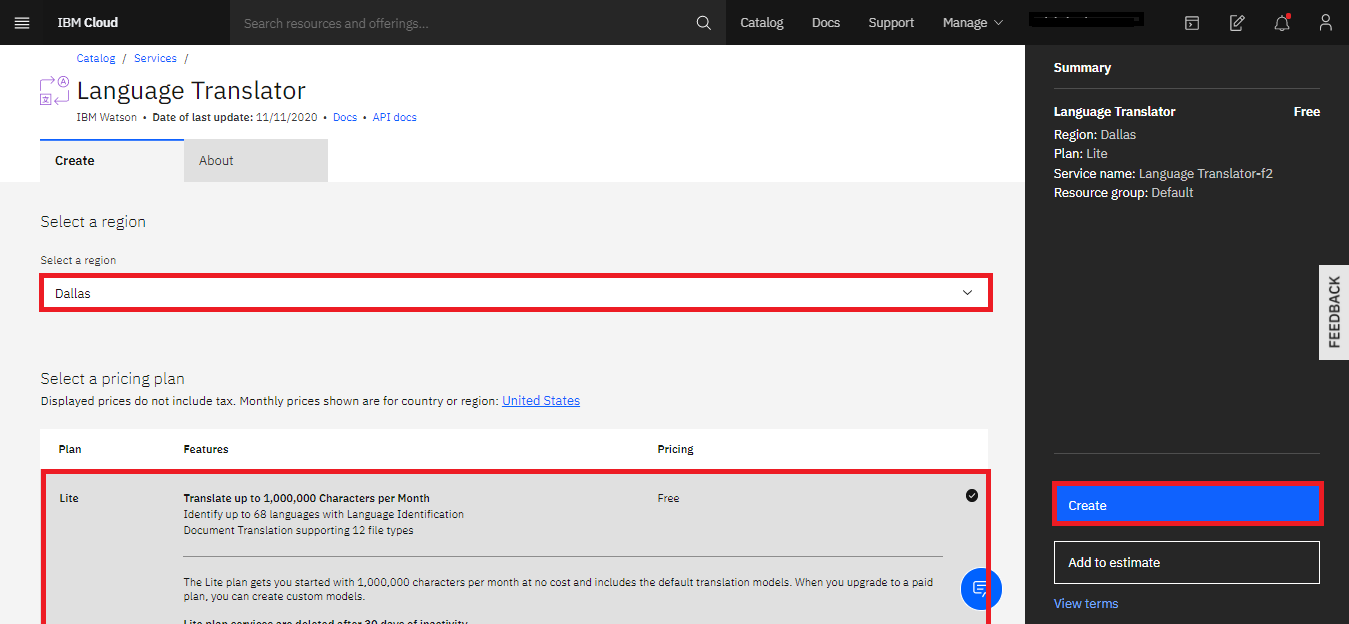 3) Once the Language Translator instance is successfully created, you'll get the below screen: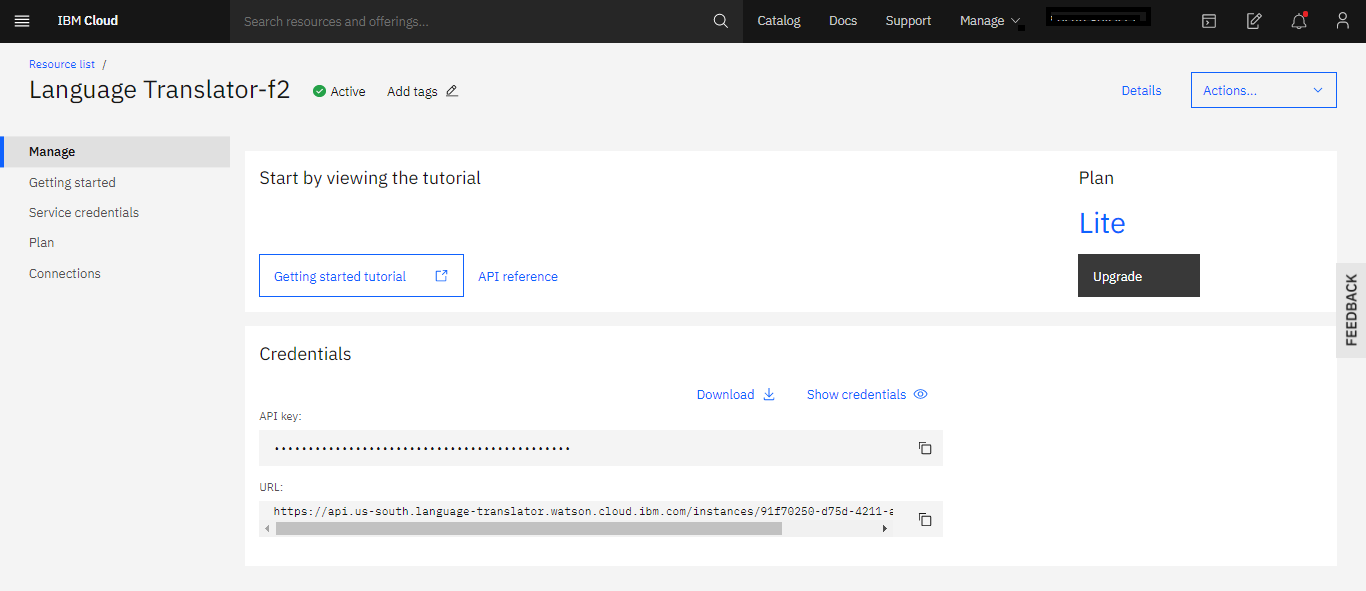 4) Copy your Api Key to your Computer…for future work.
Congratulations: You successfully create
Language Translator instance IBM Cl

oud.